2001: A Show Odyssey
It's difficult to know where to start when looking back on this show year. It was certainly one full of pleasant surprises, lots of firsts (and I don't just mean ribbons!), and fabulous memories with our awesome horses.
With one huge loss (Stirinupastorm), but several new additions to bring out, we were often at odds with whom to take where! Kim had her new "Khassie" to take out for her debut. We expected big things from this Sundance Kid V daughter, and we weren't disappointed. Kim also had our "case," Second Chance, who won every hack class she entered, much to our delight. She ain't easy, but she sure is talented! Surprise and Kim had a bittersweet victory at their first big show together, Lady was surely there to help. And don't forget how we came home with an extra horse from one particular show....Superman, Kim's next superstar!
Cassie and *Paradoks really came into their own at the Arabian shows, not bad for an ex-racer and his teenage trainer. Cassie also had the whole year for just herself to show Post Exchange+, and WOW did they knock 'em dead! And Sohn, love of my life, showed 'em that it's never too late, and made me so proud. Nina proved that going from dressage to jumping is a breeze, beating some of her more experienced stablemates at times! And our own homebred PX daughter, Butter, made her jumping debut by winning 2 blues! Our newest addition, Rain, followed in her older sisters' footprints, winning champion at her first show. How do you follow a year like this one??!?
Hmmmm, how 'bout some highlights?
Nina made her jumping debut at the Harford Opening Show, earning ribbons in Long Stirrup with her junior rider. Sohn showed Adult Amateur that day, as a tune-up for his first A-rated Arab show in a few weeks. He was Reserve Champion. Chancey and Kim also debuted at this show, jumping BIG and going FAST (its a hunter class, silly! Not jumpers!) but showing what a great athlete this mare is. Cassie ran the horse ring for us, no riding for her that day.
Next came the Blue Ridge Spring Show, always a fun one. Ishowed Butter in the jumping and she won the two classes she went in. *Paradoks made it loud and clear that he really didn't want to be a jumper, but MAN did he HACK! He won every hack class he entered that day, much to Cassie's delight. (It was a sign of things to come!) Surprise did well in the jumping....a tad quick like her mom could be, but still did the job. Nina did okay too, not quite brave to the jumps yet, but still improving. They all won solid ribbons in the hack classes all day. We were tickled with everyone!
At Mason-Dixon, PX won the Championship in the Half Arabian Working Hunter, after we were all blown away by his daughter's performance in the Half Arabian Low Hunters.
Surprise had her mother guiding her that day to her Reserve Championship, and we all had a good cry. (It had only been a week since we had said goodbye forever to our little Lady.) Sohn's performance was somewhat lacking (who is pushing the buttons here?!?!), but I didn't care. Everyone else had done SO well!
Our EAAHSC shows started up and what a zoo! Cassie and I were juggling two horses a piece in the jumping. She had PX and Nina and I had Sohn and Butter. I daresay no one got the best ride out of us, but what the heck. We had fun! Nina and Butter actually had a couple of decent courses, enough to pin. No matter that PX went off course, with Sohn following behind him with a refusal (don't ask!), it gave Surprise the chance to beat them all in the Handy Hunter class!!! Nina and Butter placed well too. And *Paradoks won the Liberty class both days, doing his thing to Bon Jovi's "It's My Life."
The Fair Hill show was WET (our tack molded overnight!), but PX was champion Saturday, and Sohn was champion Sunday in jumping. Sunday though, *Paradoks really caught on fire. He won some huge classes and was Champion Hunter Pleasure for the first time! Cassie was BEAMING! (They couldn't BUY a ribbon last year!) And all with a lost shoe, which we didn't realize til we loaded him up to go home. (Gotta love that rubber footing there!)
The following weekend was our HHSA Night Show, Sohn was Champion in Adult Amateur, giving us some gumption to try another BIG show....
So came a spur-of-the-moment decision to go to the Pennsylvania Jr-Amateur Games, (Penn-AM Games as Kim calls them!), an A-rated Arabian show. Cassie was away, so I decided to show both PX and Sohn. It was hotter than hell, and I was grateful that we showed in the evening, although the sweat pouring off me even after dark meant it wasn't making a huge difference in the temperature. Right before our warm-up trip, PX lost a shoe...I did the warm up anyway, and sent Jeff off with him to find a farrier to put it back on before his classes! In the meantime, Sohn won all 3 of his Working Hunter Classes and was Champion, which was a HUGE surprise! PX, with the shoe replaced, also won all three of his and suddenly I realized what this meant. We had planned to take PX to the Region 15 Championships the following weekend, but now Sohn had qualified too! Do I dare take the old man?!?!?!
It was damned tempting, and we decided to go for it. PX was now qualified in two divisions, Sohn in one. You can read our story of THAT odyssey here. It was an awesome experience and I was so proud of Cassie/PX and of my dear Sohn winning 3 Championships between them!
We had our sights now firmly set on East Coast Championships, Cassie had an axe to grind after her disappointment there last year, and Sohn...well, we just wanted to see if it was a fluke.
In the meantime, Cassie showed *Paradoks at the EAAHSC July show and again, he was super! Reserve Champion one day and Champion the next....I don't know what they were doing different this year, but boy was it paying off!
She also tuned Rio (with Rain by her side!) and Butter up for her 4-H County Fair Horse Show. Rain was Junior Champion in Conformation and was the darling of the crowd, staying with Butter while her Momma showed. Cassie was Equitation Champion & Hunter Horse Champion on Rio and Pleasure Horse Champion with Butter! What a day!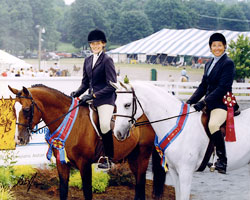 East Coast Championships were right after that....Cassie showed in two divisions and was Champion in both! Sohn was "on" again too, and was Champion in his division, much to my delight. It was like a dream! Again, we cried thinking about how Lady won that title last year.
Next was our FAVORITE show of all, the Southern Delaware EAAHSC show. We took seven horses and came back with eight...more on that later! Margaritaville was the theme, very appropriate too. Saturday's jumping ended with PX champion, and Nina with a 3rd in the Hack. Butter and Surprise were under the mistaken impression that it was a RACE...but Sunday found Butter winning all three jumping classes with Sohn right behind her. When Sohn won the Hack in the afternoon, he edged Butter out for Champion...she got Reserve. Both 4 yr olds did well in their Jr. Horse classes both days with solid ribbons. *Paradoks had good solid rides, til some spectator stood ringside wrestling a folding chair into a bag...woooooo! Scary stuff! And the fun classes on Saturday night were a blast - Sohn won the Command Class (that's my BOY!), Cassie won Bareback Dollar on him, PX won the Walking Race and Sohn/Paradoks were 2nd in the Pairs Class.
And Kim decided to buy a new horse. "KGN High Anxiety," a horse we had known for years and longingly admired. We took him home on trial and kept him, taught him to jump in time for the next EAAHSC show and even won some ribbons in it!
The Maryland Futurity came up, with Rain competing along with her sisters and Kim's new man. Nina came along for niece Kelly to show in Walk-Trot...they definitely had the cuteness factor going on! Butter won the 3 & 4 Yr Old Hunter Pleasure class AND won a huge Novice Hunter Pleasure class! Mirage and Lauren Over won most of the Walk-Trot classes, with Nina and Kelly 2nd behind them. A fun time was had by all.
The last EAAHSC shows had mixed results. Sohn was Reserve Champion Saturday and Champion Sunday in the Working Hunter. Butter got a couple ribbons in the jumping, as did Superman once Kim got his number (stick in the LEFT hand!). They all had some great courses, and also they all made some mistakes....oh well! Butter even won her last Junior Horse class for the year! I was so proud of her! *Paradoks didn't pin as well as he had been, but that's horse showing!
Finally, we decided to give *Paradoks a try at an A-rated Arabian show, so we chose Keystone International Livestock Expo. The judge was one that liked his style, so off we went! In the first class, Cassie and *Paradoks were FIRST out of 18 horses! Cassie came out of that class saying "If we get nothing else today, I'm happy!" Her horse went so well considering he had never been in a show arena anything like that one! They went on to place 2nd out of 18, 2nd out of 13 and Reserve Champion out of 21!! What a thrill!!!
The year-end award banquets were full of pleasant surprises too. At BRAHA, Sohn was Champion in Hunter/Jumper, with PX Reserve Champion, Butter 4th and Surprise 5th. Butter was Champion Junior Horse, with Surprise Reserve Champion. *Paradoks was Champion in Purebred Hunter Pleasure and Cassie was Champion in Youth 11-14 Yrs. Together, they won the High Point Youth Hunter Pleasure Championship!! Rain also was the Partbred Weanling Filly Champion, and Khassie was Champion Purebred 2 Yr Old Filly. WHEW!
The biggest surprise came at the EAAHSC banquet. Cassie was named the High Point Junior Rider, winning the Laura Carlson Perpetual Trophy. None of us had even considered her for that!! She and PX won Reserve in Hunter Over Fences, 2 Third Places in the Hunter Hack and Handy Hunter; on *Paradoks she was Reserve Champion in Junior Hunter Pleasure, Third in Open Hunter Pleasure and Third in Native Costume. Sohn was Champion in Hunter Over Fences, Reserve Champion in Handy Hunter and Hunter Hack. Butter was Sixth in both Hunter Over Fences and Handy Hunter, and Fourth in Junior Horse Hunter Pleasure! Surprise was Fifth in Junior Hunter Pleasure, Fifth in Handy Hunter, and Fourth in Partbred Mares. Khassie ended up fourth in her division with only going to two shows!
Our own homebred Welsh cross pony, LVF Boomerang (by PX out of our sweetheart Gallimaufry Puma) had shown all year in the HHSA and was Champion in the Green Pony Division - shown by an 8 yr old! She also won the Aazrak Memorial Trophy, named for her great-grandfather, and won by her dad several times in recent years. Congratulations to the Connells, who own Boomer now.
Another of our homebreds, LVF Bottom Line ("Mirage"), by PX and out of TEA Farah Gajhan, had a great year showing with owners Toni and Lauren Over in both Long Stirrup and Mini-Stirrup. Look out for this talented filly next year at the Arabian shows!
All in all, it was a year dreams are made of. And our successes just show that hard work and dedication pay off in the long run. AND that even peons can do well!!
Thanks to Katie Rose for your great coaching, Kim for transportation and FUN, Heather and Jan for moral support and margaritas, Patti for riding help, Jeff for putting up with all this nonsense, and Cassie - without your help, darling, I couldn't do ANY of this!
You are the BEST!!!!!!!!!!!